NAVIGATION
SUSTAINABLE DEVELOPMENT
HUMANITARIAN AID AND EMERGENCY RELIEF
TRANSFER OF SLOVAK EXPERIENCE
Search And Rescue Team
We offer a comprehensive range of search and rescue services:
Comprehensive
- We provide a rapid and effective assistance in the area of humanitarian emergency relief and disaster response, protection of human lives, natural environment and property of communities stricken by man-made or natural disasters.
Centralized
- The team consists of a diverse professionally trained personnel base skilled in search and rescue operations in mountain and urban settings. Team members participate in different support or rescue categories, depending on individual skills and participation levels.
Rescue
- We are committed to relieve human suffering whenever and wherever it is needed
Service
- We serve to rescue and protect lives and property. We bring worldwide experience and professionalism.
For every crisis situation we can organize and plan a search and rescue operation specified to your need.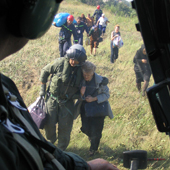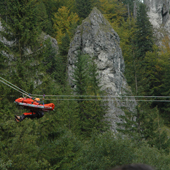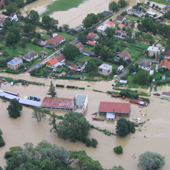 Our area of activity:
Flood
Earthquake
Storm rainfall
Windstorm
Snow blizzard
Oil industry accident
Chemical accident
Disinfection
Disinfestations
Decontamination of human body and/or objects and materiel
Search of lost and missing persons and property
Airplane disasters
Water rescue and recoveries
Diving and underwater recovery
Canine search and recovery
Traffic accident
Work at high and low altitudes
Assistance to Police
Assistance to Fire Department
Assistance to Civil Defense and Crisis Management Centers
Explosion
Medical assistance
Transportation of injured from hard to access areas
Logistics support in emergency situations and disaster
Logistic support at art, sport or social events
Our core values and principles
We adhere to strict rules and procedures when planning, organizing and deploying a mission in accordance with INSARAG guidelines (International Search and Rescue Advisory Group). Our humanitarian response is governed by international principles and good practice as defined by the international humanitarian law.
- humanity
- neutrality
- impartiality
- independence
When providing humanitarian help we work closely with local institutions and partner organizations to deliver effective help in the spirit of solidarity. We always respect local laws, culture and customs, security and safety of the people and property.
RAPID DISASTER RESPONSE
The times in which our team can be activated to leave the base /deployment area for a specific search and rescue operation are as follows:
| | | |
| --- | --- | --- |
| Slovakia | | 60 min. /1-hours./ |
| Czech Republic, Hungary, Poland | | 180 min. /3-hours./ |
| Other European states | | 360 min. /6-hours./ |
| Worldwide | | 720 min. /12-hours./ |
EARLY RECOVERY
We aim to facilitate self-sustaining processes for post-crisis recovery, restoration of basic services, livelihoods, shelter, governance, mine action, security and the rule of law, environment and social dimensions, including the reintegration of displaced populations. We offer to assist with a smooth transition to long-term recovery based on development principles.
CAPACITY BUILDING
We offer to individuals, governments and institutions capacity building for disaster management, Risk and vulnerability assessment, Development of training materials, Support to mitigation programs and Coordination. Our team is certified to provide advanced search and rescue training.
See an example of our mission in Haiti in January 2010:
Our team worked in Haiti after this country was hit by a devastating earthquake in January last year. We have built field hospitals, disinfected strategic buildings including the largest hospital in Port-au-Prince, sources of drinking water, sewer systems, tent camps, places with high concentration of people, first aid areas and facilities, embassies, UN and EU missions, headquarters (during the stay we were able to disinfect about 80 per cent of strategic points in Port-au-Prince and surrounding area). Our medical team attended to the earthquake victims including providing surgical treatment when necessary.
Gallery >>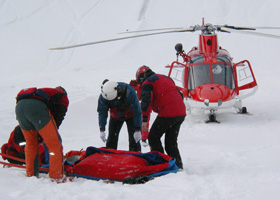 Our search and rescue team is composed of
| | | |
| --- | --- | --- |
| Rescue & Search | | 135 |
| Disinfection & Disinsection | | 16 |
| Cynologists | | 40 |
| Technicians | | 47 |
| TOGETHER | | 238 |
Our team members have certification for the following areas of expertise:
- Rescue worker
- Firefighter
- Fire rescue technician
- Search and rescue dog handler
- Health worker
- Medical Doctor
- Lifeguard
- Diver
- Watercraft driver
- Paramedic – first aid treatment
- Chemist
- Climber
- Mechanic
- Radio operator
- Professional driver
- Helicopter winchman
- Radar Operator (Helicopter)
All our members of staff have undergone extended medical check-ups, psychological examination and following vaccinations:
TETANUS
HEPATITIS A+B
ENCEPHALITIS
INFLUVAC
MENINGOCOCIQUE A+C
TYPHIM VI AVENTIS
Since our establishment in 2000 our search and rescue team had participated in 4000 missions in Slovakia
and 13 international operations, including 5 overseas deployments (see map):
| | | |
| --- | --- | --- |
| Turkey | | - Earthquake |
| Taiwan | | - Earthquake |
| Hungary | | - Floods |
| | | - Snow blizzard |
| | | - Airplane crash |
| | | - Windstorm |
| Ukraine | | - Floods |
| Czech Republic | | - Floods |
| Iran | | - Earthquake |
| Sri Lanka | | - Tsunami |
| Romania | | - Floods |
| Pakistan | | - Earthquake (disinfection) |
| Haiti | | - Earthquake |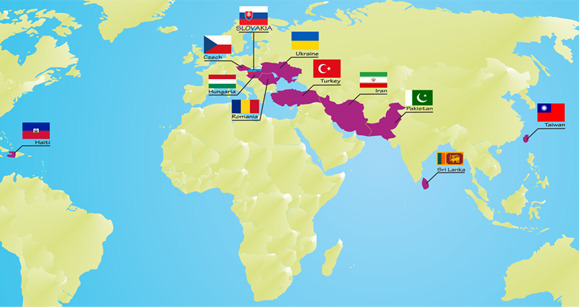 Our search and rescue team has state-of-the-art equipment and gear
See samples here >>
Here you can find ISO certificates awarded to our team >>